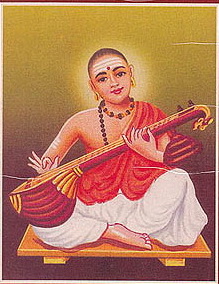 Muttuswami Dikshitulu Krutulalo siva tatvam
During the month of Falguna, the annual spring festival at the Thyagarajaswamy Temple, a son was born to Ramaswami Dixithar and Subbamma. MudduSwami Dixit was born on March 24, 1775, the son of a pious couple, Subbalakshmi Ambal and Ramaswami Dixithar. He was born by the grace of Muddu Kumaraswamy and was named Mudduswami Dixithar by his parents. Mudduswamy Dikshitar was called Muthuswamy Dikshitar over time. Later, two more sons – Chinnaswamy, Balaswamy and a daughter Balambika were born.
He studied Telugu and Sanskrit as well as classical music with his father. Venkatamukhi studied the famous book Chaturdandi Prakashikai on music. He was also able to acquire the knowledge of our scriptures as needed.During his time in Kashi, Hindustani music had a profound effect on his creativity, which is evident not only in the management of Hindustani ragas but also in the portrayal of ragas in general. The tunes they brought from Hindustani music to the Carnatic tradition are Saranga, Dwijavanti etc. He composed many hymns in Yamuna Kalyani . Among them is Kirtana Jambupate Mam Pahi for the melody and the greatness of the glories. Parmala Ranganath in Hamir Kalyani
Isn't it an exaggeration to hear the hymn Vatapi Ganapatim Bhaje. His works include Shalkattu Swaram, Manipravala Sahitya, Vowels etc. He led the way in writing works with privacy and listenership. Octagonal seals such as Ragamudra, Rajamudra, Vaggeyakara Mudra etc. appear in his works. Other famous works: Vatapi Ganapatim Bhaje, Maha Ganapatim, Srinathadi Guruguho, Akshayalinga Vibho, Balagopala, Akilandeswari, Ramachandram Bhavayami, by: Sribalakrishnam, Sri Varalakshmi, Siddhi Vinayakam, Thyagaraja yoga vibhavam many more.
Muttuswami Dikshitulu Krutulu  Download PDF Book 
muttuswamy_deekshitula_vari_krutulalo_shiva_shakthi_tatvamu

Follow us on Social Media