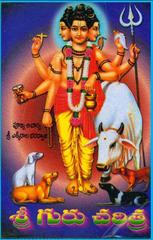 Shri Guru Charitra
Shri Guru Charitra
శ్రీ గురు చరిత్ర
Shri Guru Charitra was first composed by Shree Gangadhara Saraswati in the Marathi language. In This Kaliyuga "Shri guru Charitra" is accepted as "Kamadhenu". Kamadhenu implies the things which you wish you get it right away. The blessed book Guru Charitra need to peruse with an unadulterated essence. Anyone does the Seva can get the satisfaction of wants whatever they wish.
In the event that anybody not ready to peruse the Guru Charitra can advise any Brahmin who is knowledgeable of perusing with it. Its modest solicitation to all the adherents of Lord Dattatreya to peruse Guru-Charitra at least once in a day to day existence time to comprehend the ideas, conventions, significance of life. To feel the intensity of Guru Charitra and to comprehend what all the marvels did by Shree Narasimha Saraswati in the time span when they were remaining at Karanja, Narsoba watercourse, and in conclusion at Ganagapur.
Lovers who read Shri Guru Charitra or play out its Parayana experience a Spiritual Joy and furthermore Material Well Being. A few Devotees play out the Parayan for their Physical and Mental Well Being. Various are the Instances in Sri Guru Charitra where we see various individuals from the nation over who came to Shri Guru were restored by him by his simple Kind Glance. Indeed, even today enthusiasts experience his Blessings by perusing Sri Guru Charitra consistently. There are Specific Chapters (Adhyays) in Guru Charitra which are accepted to fix Specific Problems in Life. Here are not many
Adhyay 8 for Birth of a Wise and Intelligent Child, Adhyay 14 for Solving Employment Problems, Adhyay 17 for Development of Children's, Adhyay 18 for Financial prosperity, Adhyay 20-21 for Ghost or Bhoot Preta Badha, Adhyay 10 and 38 for Financial Upliftment, Adhyay 13 and 45 for Health-related Problems.
Adhyay 1: – Namadharak is favored with the vision of sage Nath.
Adhyay 2: – The Control and Wonderfulness of Bhakti, Story of Veda Dharma and his Follower Deepak
Adhyay 3:- Maha Vishnu Spares Ruler Ambrish and acknowledges Rishi Durwasa revile to require A few Incarnations Adhyay 4:- Trimurtis test the Pativratya of Mata Anasuya, Birth of Shri Dattatreya.
Adhyay 5:- Birth of Shripada Sri Vallabha Swami Maharaj at Peethapuram
Adhyay 6:- Ravana gets Atma lingam from Maha Shiva, Birth of Sri Kshetra Gokarna
Adhyay 7:- Significance of Sri Kshetra Gokarna, Story of Ikshawaku Ruler and Vashishta Maharshi
Adhyay 8:- A Brahmin ladies who attempted to commit suicide is Spared, Significance of Shani Pradosh Vrata
Adhyay 9:- Rajaka (Washerman) favored to gotten to be a Lord in his Following Birth , Shripada Shri Vallabha Swami Concludes his Avatara.
Adhyay 10:- Shripada Shri Vallabha Swami resuscitates Vallabhesh who was ransacked and murdered by Dacoits .
Adhyay 11:- Birth of Shri Master Narasimha Saraswati Swami Maharaj and his Bala Leela as Narahari
Adhyay 12:- Narahari acknowledges Sanyasa Diksha from Sri Krishna Saraswati at Kashi and gets to be Sri Narasimha Saraswati
Adhyay 13:- Sri Narasimha Saraswati visits Karanja, A Brahmin Cured of Extreme Stomach hurt at Basara
Adhyay 14:- Sayamdev visits Sri Guru and is spared from the Inconvenience of a Muslim King
Adhyay 15:- Significance of Different Teerthas clarified, Devotees sent on Journey but Sri Master himself Remains at Parali Vaijanath
Adhyay 16:- Significance of Bhakti clarified, Story of Dhoumya Rishi and his Disciples
Adyay 17:- A Gloomy Brahmin Boy gets to be a Well Learned Pandit by the Elegance of Sri Master at Audumbar (Close Bhillavadi)
Adhyay 18:- A Destitute Brahmin at Amarapur favored with a Pot of Gold by Evacuating the Plant of Ghevada
Adhyay 19:- Shri Guru favors 64 Yoginis additionally a Agriculturist called Ganganuja at Narsobawadi
Adhyay 20:- Shri Narasimha Saraswati Spares a Lady from a Brahma Pishachi who utilized to murder all her issues quickly after their Birth. Sri Master moreover favors her with 2 Sons.
Adhyay 21:- Shri Guru within the camouflage of a Sanyasi Comforts Ladies with part of Reasoning. The ladies goes to Narsobawadi and implores to Sri Master Padukas. The Dead Child is restored to Life at Night.
Adhyay 22:- Shri Guru Makes an Ancient Desolate Buffalo at a Brahmins house donate Drain when he came to Ganagapur for Bhiksha (Alms).
Adhyay 23:- Brahmarakshasa freed by Shri Guru Elegance, Foundation of a Math at Ganagapur
Adhyay 24:- Shri Guru uncovers his Vishwaroopa (Widespread Shape) to Sri Trivikrama Bharati at Kumasi
Adhyay 25:- Two Pompous Brahmins who disturbed Sri Trivikrama Bharati are brought to Sri Guru at Ganagapur.
Adhyay 26:- Structure and Significance of the Sacred Vedas is clarified to the Presumptuous Brahmins
Adyay 27:- A Harijan is called upon and with the Beauty of Sri Master he begins examining the Vedas, the Brahmins donate up but were in the long run Punished
Adhyay 28:- Shri Guru inquires a follower to expel the Bhasma on Harijans body by Pouring water, his Information vanishes and he returns home
Adhyay 29:- Significance of Bhasma (Sacred Fiery remains) clarified, Story of a Rakshasa and Sri Vamadeva
Adhyay 30:- A Lady named Savitri who has misplaced her spouse is supported by Shri Master in camouflage and is Clarified the Impermanence of Life. (This Put can be still seen at Ganagapur and is known as Sati Katta )
Adhyay 31:- Pativratya Dharma is clarified to Savitri, Story of Agastya Muni and Lopamudra
read more……
Other Parayana Books in Telugu
Shri Guru Charitra
Download PDF Book
Read Shri Guru Charitra online here
SriGuruCharithra-by-Ekkirala-Bharadwaja

Follow us on Social Media